A football manager is supposed to epitomize what their club is about, they're supposed to lead by example, maintain a calm demeanor, and project an air of professionalism at all times. These are all things Alan Pardew FAILED to do yesterday at the KC Stadium, where he attempted to head-butt Hull MF David Meyler during Newcastle's 4-1 victory, a victory overshadowed by the inexcusable and shocking antics from their manager, which resulted in a £100,000 fine from Newcastle themselves, a formal warning from the club's hierarchy, and an ongoing investigation from the FA.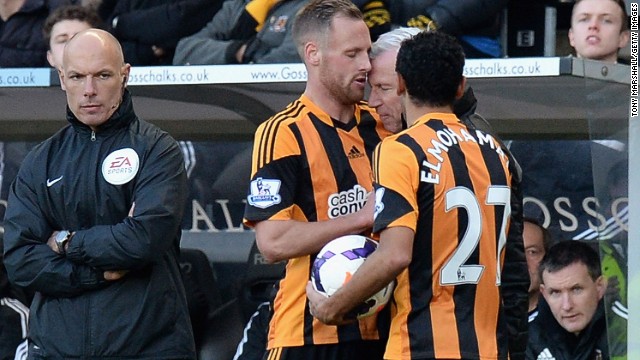 What makes the incident even more baffling is the junction of the game during which it took place, in the 72nd minute with Newcastle already comfortably ahead 3-1. As Meyler chased a ball out of bounds to take the throw-in, Pardew first deliberately stood in the way of the Irishman, leading Meyler to push him away as he frantically tried to get the ball back in play for Hull to try and mount a comeback. What Pardew did next was absolutely insane as he approached Meyler (when he frankly just should have let the situation die out) and stuck out his head towards Meyler's, leading to his fellow Newcastle coaches needing to restrain the 51 year-old while Meyler and the 24,903 people in attendance looked on in disbelief.
Match official Kevin Friend responded swiftly to the skirmish on the touchline, showing Pardew a red card and sending him off the touchline while also giving Meyler a yellow card for his participation. The incident overshadowed what was otherwise a splendid performance from the Magpies on the day, who moved up into 8th place in the BPL table with the win.
But back to the real story, Pardew himself now. This is obviously not his first brush with the FA concerning touchline behavior, as the following incidents have followed him throughout his managerial career…
November 2006 – (While West Ham manager) Pardew had a dispute with Arsene Wenger after celebrating West Ham's win over Arsenal.Wenger claimed he was provoked into pushing Pardew after Pardew's celebrations at West Ham's late win.Wenger was fined by the FA while Pardew was cleared of the charges.
October 2007 – (While Charlton manager) Pardew intervened on the pitch in a match against Hull City to try to break up a confrontation between Charlton and Hull players after sending-offs. Pardew denied he made the situation worse by intervening.
 August 2012 – (While Newcastle manager) Against Tottenham Hotspur, Pardew pushed an official after an incident where the ball appeared to go over the touchline. Pardew later apologized, citing his behavior as "ridiculous".
January 2014 – (While Newcastle manager) Against Manchester City, Pardew verbally abused Man City manager Manuel Pellegrini. Pellegrini confronted Pardew on the touchline and accused Pardew of contesting every decision by the referee. After the initial skirmish, Pardew later apologized after being confronted by journalists about his abusive language towards the officials and Pellegrini.
As you can see, Pardew is no stranger t controversy and has a repeated history of touchline incidents, varying from verbal abuse to actual physical altercations, like that of Saturday afternoon. Furthermore, it's not like Pardew has a truly accomplished resume in football that would make him indispensable as a manager, with his two biggest accomplishments as a manager being guiding West Ham to BPL promotion in 2005 and taking Newcastle to the Europa League quarterfinals in 2013. Those withstanding, he hasn't done much in terms of taking clubs anywhere and Newcastle don't appear any threat to qualify for Europe this year at all, let alone a Champions League spot. Surely the only thing keeping him at St. James' tonight is the hefty 8 year contract extension he signed with the club in 2012 locking him up as Magpie manager until 2024, a date he surely won't last to.
Football has evolved into a game of money though, and because of this evolution, Pardew will face no more reprimand than his fine, "warning" from Newcastle, and any match ban from the FA. He should be fired though, as he has not the past record nor the future promise necessary in justifying putting up with his ridiculous actions. To any outside observer the decision is clear, Alan Pardew appears a buffoon who SHOULD be terminated from his current job, but he won't, because football is now a game of dollars and cents, no longer one of integrity and privilege.