A very happy new year to all you football fans out there, and with the new year, comes new questions and headlines for England's biggest clubs and competitions
Can Liverpool (and Luis Suarez) maintain their form in 2014?
A burning question for all those who support the Merseyside club, Liverpool have suffered a setback over the past week by dropping key games away to Manchester City and Chelsea, leaving them 6 points adrift of Arsenal at the top of the Premier League. Perhaps a reason for this drop in form is the lack of production from Luis Suarez, with the star Uruguayan striker failing to score in both of Liverpool's recent defeats. It is a long-known fact that Liverpool virtually go as Suarez does, and they'll look to get back on track Wednesday at Anfield versus an in-form Hull City outfit.
Prediction: Suarez will continue to produce for the Reds and live up to his new massive contract, netting somewhere around 35 goals by season's end. I think Liverpool falter down the stretch a bit though, stumbling their way to a 5th place finish and a disappointing spot in next year's Europa League, unless they make a BIG splash in the transfer market.
 Will Manchester City stay perfect at home and who (if anyone) can defeat them at the Etihad?
Honest, gut reaction answer is yes, Man City will stay perfect at home throughout the rest of the year. Looking at their remaining home games, the only real test left is the visit of Chelsea, fellow contenders for the BPL title. Assuming City's squad is relatively in-tact for that encounter, I see City achieving a draw at worst in the match with the rest of their home fixtures being relative cakewalks against the likes of Fulham, Stoke, and Cardiff, although they may get a season-ending test when West Ham visit if the Hammers are in a relegation battle. Southampton also may provide sturdy opposition when they come to Manchester on April 5th, but the Citizens should be fully locked on the title chase by then and it would be hard to see a slip-up that late on.
Prediction: Manchester City finish the 2013/14 season with an unbeaten home record, winning every match except a draw against Chelsea on February 3rd.
Will Cardiff survive Vincent Tan's egotistical ways and avoid the drop?
Vincent Tan is quickly becoming the BPL's most hated figure, with his ridiculous transfer ideas, disregard for club history/culture, and overall egotistical attitude toward his football club. Indeed, the long-suffering fans of Cardiff City deserve much better than the display put on by this man and the decisions he makes concerning their club. Unfortunately, it all looks pretty bleak in terms of survival for the Bluebirds right now, with the team near the foot of the table and struggling for form while other relegation battlers like Sunderland and Crystal Palace all appear to be righting the ship. Unless a quick revival is had, this squad just simply does not have the talent level required to stay up whilst the bricks crumble around them.
Prediction: Cardiff finish the season in 19th place on 26 points, relegating them back to the Championship.
Is there any way Manchester United get back in the title chase?
In my opinion, the ship has already sailed on United's title chances this year and David Moyes would be best served to look at the top 4 as a reason goal for his red Devils this year. While 8 points may not seem like a huge gap, this distance is lengthened when you just look at the quality of the teams in between United and Arsenal. With Arsenal, Chelsea, and Everton amongst those in the sandwich, you can see United will just not have the quality this year needed to make a dramatic push for the title. The injury to RVP will obviously not help matters, and for me, United will have to drop ZERO points over the rest of the season in order to win the title, an impossible feat given the let downs they've provided with a stronger squad during the season's first half.
Prediction: Manchester United end up 4th, a solid finish to David Moyes' first year in charge, but about 10 points back of the title race.
Can Clint Dempsey help lift Fulham from their current state of disarray ?
He's their only hope really, unless Dimitar Berbatov can become a real factor down the stretch. The American recently completed a loan move back to the Cottage from MLS side Seattle Sounders and he has a solid goal scoring record at the London club, notching an even 50 goals in 184 career appearances for the club. It is indeed goals that Fulham have struggled with as well this season, with Berbatov failing to truly produce from his striker position and players like Steve Sidwell unable to be relied upon frequently for goals. If a player like Pajtim Kasami and Dempsey can forge a solid bond, then Fulham's chances of staying up will increase exponentially.
Prediction: Dempsey comes in and rescues the Cottagers, helping them secure a 15th place league finish.
Will any minnows emerge in this year's FA Cup?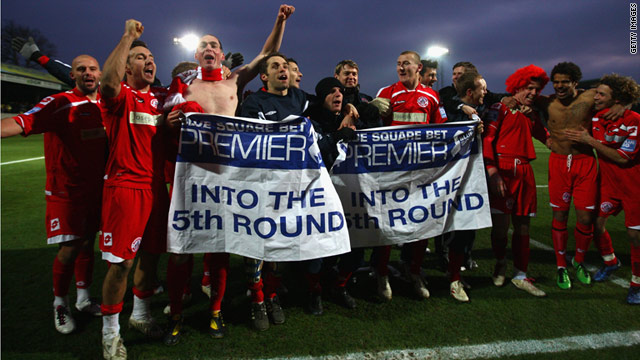 Unfortunately for the FA Cup this year, a stunning lack of minnows have survived to the 3rd Round of the competition with only 3 Non-League sides still involved (Grimsby Town, Kidderminster Harriers, and Macclesfield Town). This year's tournament in general has had a lack of upsets for the neutral to get excited about, with the only real giant-killings thus far being Brackley Town's dismissal of League 1 Gillingham in the 1st Round Proper and Macclesfield's 4-0 thumping of League 1 Swindon in the same round. Coupled with this, is a weak 3rd Round draw which produced a stunning 5 ties involving solely Premier League teams. This results in 2 possible scenarios, the chance for lower Football League sides to make it farther in the competition, or a cup dominated by all Premier League ties.
Prediction: Only 1 or 2 minnows will emerge from the FA Cup this year, with some solid candidates being Macclesfield, Grimsby, MK Dons, and possibly Plymouth Argyle.
Can Portsmouth stay in the Football League?
Even the most pessimistic of Portsmouth fans could not have predicted the slide their team would go on, from winning the FA Cup in 2008, to dabbling in League 2 by 2014, it is a 6 year turnaround of unprecedented nature for the side from Fratton Park. That being said, darker days could still be ahead for Pompei if their slide continues for the rest of the season, dropping them inexplicably out of the Football League. That could actually happen as well with Pompei currently sitting in 17th place in Sky Bet League 2, perilously close to the drop to the Conference.
Prediction: New manager Richie Barker will breathe new life into Portsmouth, just doing enough to keep them in League 2 with a 21st place league finish.
Can Newcastle finish in the top 4?
This, compared to some of the other headlines on this list, is a bit of a straightforward one for me as Newcastle should fall short of the Champions league. While they have a venerable stable of world-class talent in Cabaye, Cisse, Sissoko, Ben Arfa, Remy, and Gouffran, I think they are just too far back with too many points to make up on other teams that will not drop the needed points.
Prediction: Newcastle wind-up 6th, nothing for Alan Pardew to be ashamed of on Tyneside
Who will win the Barclays Premier League?
Aah, yes, the burning question on everyone's mind. Who just will win the Premier League this time 'round? I've already written off the likes of Newcastle, Liverpool, and Manchester United, leaving only a handful of teams left in the running. From my point of view, the race comes down to 3 teams: Arsenal, Chelsea, and Manchester City. Everton and Tottenham just aren't deep enough for the long haul and they both should fade into the distance by the end of February, leaving the Gunners, Blues, and Citizens as the only teams with a true title shot.
Prediction:
Chelsea are the most flawed of the remaining teams as they have inconsistent contribution from their strikers and their midfield, despite its depth, isn't strong enough to be the sole goal scoring option for the team.
Arsenal have that balance between midfield and attack that Chelsea lacks, yet they are more susceptible to dropping points thanks to some inconsistent home play and their style of play under Arsene Wegner, selecting to sit back rather than press on in key moments.
All these points lead me to conclude that Manchester City, as long as Joe Hart doesn't screw anything up too bad, will secure the BPL title with approximately 3 weeks left in the season.