Saturday's game against Burnley at Old Trafford provided the perfect opportunity for Jose Mourinho and his men to pick up their first league win in 4 games since the 4-1 drubbing of Premier League champions Leicester City. On that afternoon against Claudio Ranieri's men, Manchester United put in a performance packed with sheer dominance, skill, panache and an exciting brand of attacking football. The game against Stoke at Old Trafford also was indicative of the kind of attacking football Jose Mourinho is slowly moulding his players to aspire to and practice. The direct and fast-paced style that United have been missing for a number of years since the retirement and departure of arguably the greatest manager ever to grace the game, Sir Alex Ferguson.
During Louis Van Gaal's tenure at the club, possession was 9 tenth of the law at Old Trafford; United were bored to death by the style and "philosophy" that was so commonly used in the Dutchman's press conferences. United would dominate possession but end up leaving the field of play only having a couple of chances on goal. The stats picked up from last season made damning reading for those associated with the club. Last season, United set a club record for the fewest goals scored in the league after netting just 49 times in 2015/16. Their previous lows was 58 in 2004/05.
In terms of chances created, Louis Van Gaal's army only conjured up 312 openings – only West Brom, Aston Villa and Watford created fewer chances. The stats doesn't stop there, Manchester United only had only 430 shots on goal – ranking them 15th out of the 20 Premier League clubs – Tottenham had the most with 229 more than United.
However, life under Jose Mourinho has been a vast improvement on this, despite the results not representing the dramatic change in the brand of football. Mourinho has got his men deploying a more exciting and effective brand of football which is far more appeasing to the fans; however, with 10 games in to the 2016/17 Premier League season, the league table does not make good reading for Mourinho and his men. With rivals Arsenal, Manchester City, Liverpool and Chelsea impressing and accumulating vital points at this stage of the season, Jose Mourinho finds his team languishing in eighth place in the table 7 points behind 4th placed Chelsea and eight points off Manchester City in first place. United have a serious mount of catching up to do in order to be amongst the pack chasing the silverware come May 2017.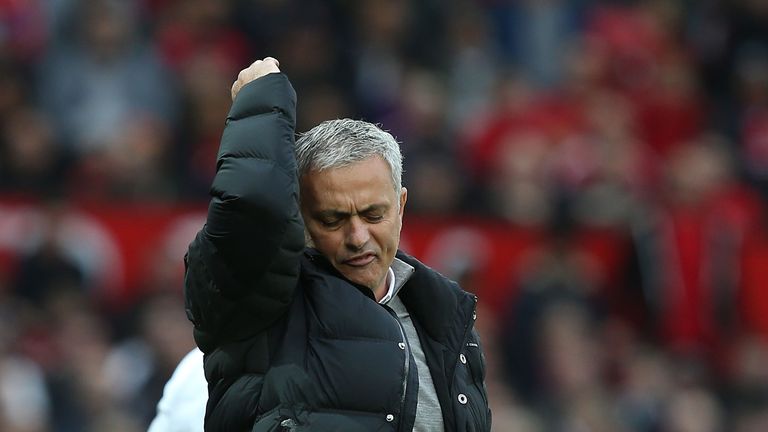 Saturday's draw against Sean Dyche's Burnley certainly did not help their cause. On a day where Mourinho and his men were expected to pick up 3 valuable points as they regain lost ground, they unfortunately faltered and found themselves wasteful in front of goal as Burnley and former United employee Tom Heaton was made to look like a World Class goalkeeper. United had a remarkable 37 shots on goal, but found Heaton in impenetrable form as he made 11 top saves. A few weeks ago against Stoke was similar tale in the United melodrama as they had 24 shots on goal compared to Stoke's 7 and still found themselves dropping valuable points. Stoke goalkeeper on the day, Lee Grant was also named Man of the match after making eight saves in the game.
"It's simple – the best Manchester United performance of the season," Mourinho said at full-time, "its could have been 3-0 or 4-0 at half-time and six or seven at the end of the game. I can't believe the result is 1-1. It was very undeserved."
It was a similar story on Saturday as United may have put in their best performance matching that of Stoke and Leicester earlier on in the season, but none of that means anything if Mourinho and his men don't turn these exciting performances into positive results. It was a case of everything but the goal as not one of the 37 shots on goal were converted. The players must take responsibility and certainly none other than Zlatan Ibrahimovic who was the chief profligate for United, missing at least three guilt-edged chances out of 12 on goal meaning he has now gone six league games without finding the net – his worst run stretching back to his time at Inter Milan in 2007.
Ibrahimovic who started the season so well with 5 goals in 5 games has been poor in front of goal since then and has been victim of missing some guilt edged opportunities – if converted – could have United competing with the frontrunners for the Premier League title but instead his lack of quality in front of goal has put a dent in United's early title ambitions. In the 2-1 defeat against City at Old Trafford, he had great chances to win the game but he could not convert. In the 0-0 draw against Liverpool, a brilliant Paul Pogba cross could not be converted by the Swede when it looked so easy to score. In the final moments of the Burnley game, Pogba again provided Ibrahimovic with a telling cross only for the Swedish great to scuff his opportunity.
In fact, in the last six games, Ibrahimovic has played 540 minutes of football, he has had 35 shots, but hasn't registered either a goal or an assist in those minutes which is staggering considering his World Class ability and his knack for the unthinkable. Certainly, it is only a problem when you're main striker isn't creating and fashinoning chances for himself but when you have the ability and the quality and Zlatan Ibrahimovic, he is expected to deliver week in week out for the club and his scoring drought is at the centre of Manchester United's recent slump. Can we say its down to a lack of confidence or is Zlatan just unlucky as he settles down into life in Manchester? We can't say its the former because we as fans are accustomed to the self-righteousness and self-confidence of the Swede that we can't associate his poor form down to a lack of confidence. So maybe he is just unlucky.
Nonetheless, Jose Mourinho has a massive job on his hands to rediscover the form of Zlatan and the whole squad. What solutions does he turn to? Is the Portuguese coach brave enough to drop the Swede for the likes of Marcus Rashford or Anthony Martial who provides a much needed pace up-front or does he stick with Ibrahimovic? There is no denying the fact that once Zlatan scores his much needed goal, he will rediscover his purple patch form that he is enjoyed throughout his illustrious career amongst the best clubs in the world. It is only a matter of time. Ibrahimovic is not playing badly, his link-up play with Mata, Paul Pogba and Marcus Rashford at times has been a joy to behold. There's little sign of fatigue in the Swede's game. He can still cut it at the top with the very best despite his age; every striker goes through a bad patch, didn't Sergio Aguero go 6 games without scoring before hitting a double against West Brown on Saturday? Its not only Ibrahimovic's poor form that Mourinho would need to address, his FA charges really doesn't help his problems on the field with the club but the suspension of Ander Herrera (Manchester United's most consistent player of late) would be a huge blow for the key fixture against Swansea on Sunday.
Reports have surfaced that Bastian Schweinsteiger is back training with the squad and what about Henrikh Mkhitaryan? The Armenian international has been cast out of the squad on numerous occasions with Mourinho claiming that he needs to adapt to the rigours of the Premier League. If he needs to adapt to the game then he needs minutes; that is the question on the lips of every fan associated with Manchester United. Jose Mourinho has a lot of questions to answer, and the fans will want a response reasonably quickly.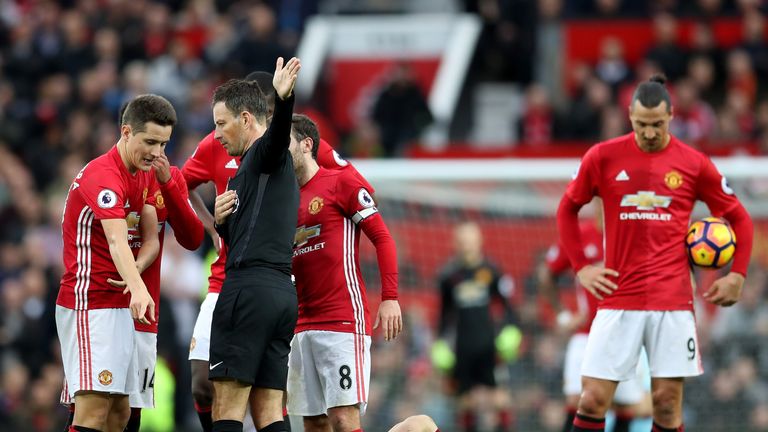 Whatever the reasons and excuses – from poor form to slippery pitches; Manchester United find themselves in a difficult position, 7 points behind Chelsea in fourth place and the Premier League table does not lie. United are in dire need of results. Thursday's Europa League game against Turkish side Fenerbache and Sunday's battle with Swansea City could not come at a sooner time, it is vital that United pick up victory in these games to restore confidence in the dressing room or else they could find themselves out of the title race before Christmas. We all know what happened to Mourinho the last time this occurred…