With the business end of the season in full swing talk is quickly moving to this summers World Cup and who should be one of the lucky 23 players on the plane to Brazil to represent England in Group D.
Goalkeepers :
1) Joe Hart
2) Ben Foster
3) Fraser Forster
Although Hart had a dip in form and lost his place in Man City's starting XI earlier in the season, he's certainly England's best keeper.
Foster and Forster are both good cover. Forster has big game experience playing in the Champions League so I would pick him over the likes of Ruddy and Butland
Defenders.
4) Leighton Baines
5) Luke Shaw
Baines has been one of the best left backs in the league for the last few years. Created more chances for his teammates in 2012-2013 than any other player in Europe's top 5 leagues.
Shaw has played over 50 premier league games and he's still only 18. One of the brightest prospects English football has produced for a number of years and seems a ready made replacement for Ashley Cole in the long-run for country and possibly club if you believe the papers.
6) Glenn Johnson
7) Kyle Walker
Obvious picks at right back. Johnson is an experienced international now and Walker can add a threat with his pace
8) Phil Jagielka
9) Gary Cahill
10) Chris Smalling
11) Phil Jones
Jagielka and Cahill are Hodgson's preferred choice at center back partnership so there is no point in changing that.
Jones and Smalling are players who whilst not having the best season at United, can operate at CB and other positions across the back four. Their versatility could be important
Midfielders
11) Steven Gerrard
12)Michael Carrick
13) Jack Wilshere
14) Ross Barkley
Gerrard leading the country out in what will more than likely be his last ever tournament for England.
Carrick is one of the best players in the league at doing the simple stuff well, his pass completion stats regularly hit 90%. A calming presence in the middle of the park.
Wilshere missed Euro 2012 but came back to have a MOTM performance as England beat Brazil 2-1 at Wembley this time last year. It is time for Wilshere to show his potential on the international scene.
Barkley has been one of the surprises packages this season. He's great with both feet, can score goals, has strength, power and a footballing brain. His lack of experience should not put Hodgson off as he was a relative unknown before the start of the season yet took the Premier League by storm.
15) Alex Oxlade- Chamberlain
16) Adam Lallana
17) Adam Johnson
18) Raheem Sterling
19 James Milner
A relatively inexperienced set of wide players but that could play into England's advantage. Walcott's injury is a massive loss but I believe we have the players to step in.
The Ox has been to a tournament, with England and recently scored against Brazil at at the Maracana. He is mature enough to handle the pressure of a World Cup.
Lallana and Johnson, before the start of the season I would not have thought about these two players getting on the plane but their form speaks for itself.  Johnson has 6 goals and 2 assists in his last 4 games, he's started 2014 like a completely different player, if he can carry on this form until the end of the season then he has to be on the plane. Lallana ,whilst not a sterotypical winger who is blessed with his pace, his ability and footballing brain set him apart from his rivals , leaps and bounds above the likes of Ashley Young and Aaron Lennon.
Sterling edges it over Andros Townsend for me. Townsend hasn't completed a 90 minutes of football since the middle of November which means he misses out. Lastly the ever reliable James Milner gets his place. He may not be everyones cup of tea but his ability to play a number of positions and his work rate are vital.
Strikers
20) Andy Carroll
21) Daniel Sturridge
22) Danny Welbeck
23) Wayne Rooney
Carroll over Lambert. Taking a 32 year old with four caps seems pointless to me, yes he scored with his first touch in an England shirt but we need to look to the future and Carroll still has time on his side to make an impact for England.
Sturridge and Welbeck, both goalscorers who are having good seasons for their club sides. Sturridge has looked a different player since his move to Liverpool and playing alongside Luis Suarez has certainly improved him. Danny Welbeck had an awful season last year but is showing this time round that he does have the ability to be a top goalscorer.
Wayne Rooney was having one of those seasons before his injury where you remember just how good of a player he is. Never really performed on the world stage for his country and after his post match outburst to a camera after the 0-0 draw with Algeria in South Africa four years ago he will be desperate to make an impact in Brazil .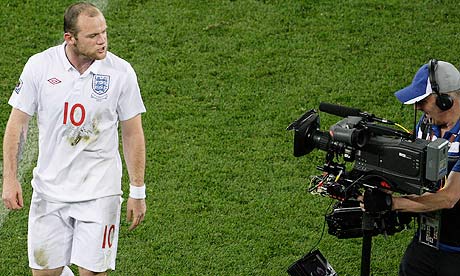 Formation?
4-2-3-1 is the popular formation for many national teams as it allows teams to break away in numbers but also get bodies back behind the ball. The Ox and Lallana can drop alongside Wilshere and Gerrard to create a conventional 4 man midfield when England are under pressure.
Barkley and Rooney can then drop alongside each other to create a 4-4-2 formation with the wingers bombing forward on the counter attack. England struggle to keep hold of the ball, having 45% possession against Ukraine at the Euros and being completely outplayed for 120 minutes by our group D opponents Italy who had 63 % of the ball and 31 shots to England's 8.
Bearing in mind England play Italy and a very good Uruguay side in the group stage it is vital that when they have the ball they keep it and use it well. That's why I believe playing Rooney upfront ahead of  the inform Daniel Sturridge  will be a smarter move, as Rooney will track back into midfield, win the ball and distribute it well. I don't think Sturridge's work rate is enough to start in games that we will be chasing the ball.
It is time for an England manager to be genuine and pick players based on their club form and not which top 4 club they play for. Reputation has got England nowhere, the golden generation failed miserably, now it is time to see an influx of youth and giving them minutes in a World Cup in Brazil can only help for the future of English football.
Bradley Armstrong
Twitter : @bradarmstrong_