Well football fans, believe it or not, THE TIME HAS COME! We are now only a mere 5 days away from the 2014 FIFA World Cup, to be held of course in the nation of Brazil (a country I can proudly trace my heritage to). The excitement worldwide is currently at a fever pitch, with 32 nations and their fan bases all full of hope and desire for the performances of their respective national teams. And from Finland to Zimbabwe, Thailand to Nicaragua, eyeballs across the globe will be fixated on all the matches in Brazil. With that noted, we here at footyblog will strive to bring you complete coverage of the proceedings in Brazil, including a preview of all 8 Groups (A-H) set to take part, beginning with Group A, which consists of the hosts Brazil, Cameroon, Croatia, and Mexico.
Group Overview
To the surprise of no one, Brazil are heavily fancied to top Group A with ease after their dominating display in last year's Confederations Cup. The South Americans are the smart choice by many to win the entire competition, and an exit in the first round of the competition would probably rank as the nation's biggest footballing failure. The race for 2nd place however is a truly intriguing one, with all 3 other nations having a decent shot at reaching the Round of 16, although Mexico's lackadaisical performances of late have many questioning both their ability and heart heading into the tournament.
Brazil
As referenced above, Brazil come into the tournament as one of the favorites to win the World Cup for a record 6th time, last winning it in 2002. Buoying their hopes of winning will be their absolutely astounding record on home soil, not dropping a competitive match there since 1975. Their squad as well oozes class and skill, from Neymar up front, to Oscar and Fernandinho in the midfield, to Thiago Silva in the back, along with the experienced and battle-tested Julio Cesar in goal. Simply put, this team is LOADED and has all the pieces in place to win the World Cup, and in my opinion, only the crushing weight of home expectations could prevent them from doing so.
Prediction: 1st in Group – 9 Points
Cameroon
This edition of the Cameroonian squad is admittedly not a vintage one, with the team based mainly around 3 stars in Chelsea's Samuel Eto'o , Barcelona's Alex Song, and Sevilla's Stephane Mbia. Aside from those talents, there really isn't anything else to shout about in the Cameroonian squad of 23, with 2 of the members (Defender Cedric Djeugoue and Goalkeeper Loïc Feudjou) coming from Coton Sport of the Cameroonian Elite One league. This side is not necessarily a young one either, with the average age being 26 years old. All things considered, Cameroon may have the firepower to score a decent number of goals against their Group A counterparts, but their defense anchored by Marseille's Nicolas N'Koulou will have one hell of a task to do against 3 other nations with proven goal scorers. Look for Cameroon to do slightly better than their dismal performance in 2010.
Prediction: Tied for 3rd in Group – 1 Point
Croatia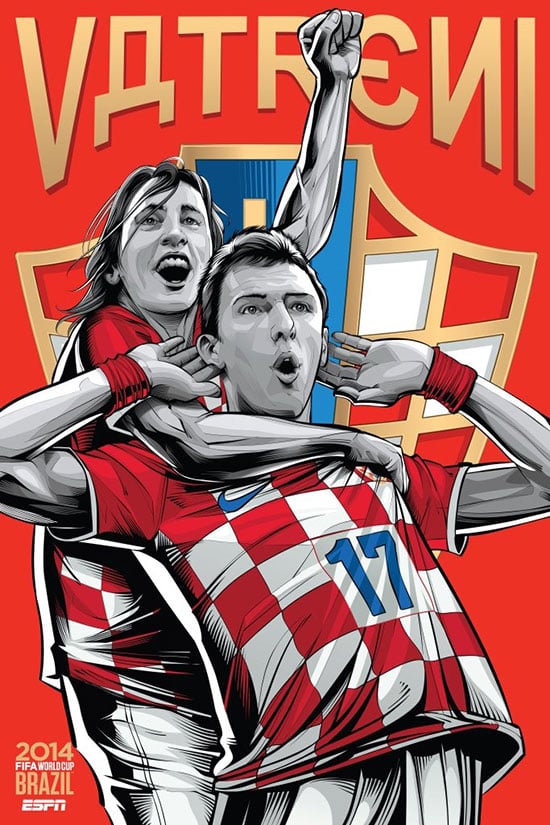 The Group A draw proved favorable to Croatia, who have emerged as a solid candidate to finish runner-up behind Brazil. The Croats needed to progress past Iceland in sudden-death qualification to make the field of 32, but they still find themselves in an ideal location to make it out of the group stage for the first time since 1998.  Headlined up front by Bayern Munich striker Mario Mandzukic and Shakhtar Donetsk forward Eduardo da Silva, who is Brazilian born, Croatia will have plenty going forward in the offensive third while their backline is patrolled by Darijo Srna, also of Donetsk, and Lokomotiv Moscow's Vedran Corluka. A late injury crisis may cause havoc upon the defense though, as Panathinaikos man Danijel Pranjic appeared to injure his ankle in Croatia's 1-0 tune up victory over Australia back on Friday. That being said, Croatia have plenty of spares in defense that could start for most national sides (Dejan Lovren of Southampton, Domagoj Vida of Dynamo Kyiv, etc.) and that coupled with Luka Modric's skill and presence in midfield should be enough to push them through to the knockout stages.
Prediction: 2nd in Group – 6 Points
Mexico
Ahh Mexico, where to begin… After a tumultuous and embarrassing qualification campaign that saw them out of the World Cup prior to a couple of late miracle goals by the United States against Panama, go through an unprecedented 4 managers during the qualification process, and have to play New Zealand in an inter-continental playoff just to make it to Brazil, you'd figure things would get better for the Mexicans upon finally making it to Brazil. It didn't. Drawn into a group with the hosts, a solid Croatian outfit, and a Cameroonian team with some promise, and Mexico will have quite the task in 6 days time. Adding to that their dismal performances of late, notably an uninspiring 1-0 defeat in the US to Bosnia-Herzegovina, manager Miguel Herrera must make quick changes to this Mexican side. They are still too reliant on the always unreliable Javier "Chicharito" Hernandez of Manchester United in an attacking sense, while Giovani dos Santos has failed to shine of late for the national team. On the contrary, a wonderful surprise has been the emergence of Miguel Layun from Club America, who has shown extreme skill in the pre-World Cup tune-ups and managed to notch a brace in Mexico's 3-0 romp over Israel recently. For me though, the horror injury suffered by Luis Montes against Ecuador will be a deal-breaker for Mexico at this World Cup and I can not see a way through for El Tri because of it, despite their experienced defense.
Prediction: Tied for 3rd in Group – 1 Point
Final Standings
Brazil – 9 PTS
Croatia – 6PTS
*Mexico – 1 PTS
Cameroon – 1 PTS
* = Goal Differential used
(Credit to ESPN and Brazilian graphic artist Cristiano Siqueira for the seriously awesome posters)