At last! We are now only mere hours away from the first kick of Brazil 2014, and to complete your preview of the tournament while you anxiously wait for Brazil vs. Croatia, footyblog brings you our Group H preview, featuring Algeria, Belgium, Russia, and South Korea.
Group Overview
Group H provides an interesting mix of teams from all levels of the World Cup spectrum: Those who should just be happy to be there (Algeria), those in their prime who are contenders to win it all (Belgium), those who are stuck in the middle between taking the step to become elite (Russia), and those who are overrated and could disappoint (South Korea). Each nation has its own, unique narrative in Group H, although they all fall into a wide category of participants from Brazil 2014. However, that should not diminish the quality of the action in Group H, with Belgium the frontrunners and favorites ahead of 3 other teams who each have a decent shot at qualification for the Round of 16.
Algeria
The Algerians enter Brazil 2014 looking to improve on their poor showing back in 2010, when they failed to score a single goal and registered only 1 point while in Group C along with England, Slovenia, and the United States. Led this time by Bosnian and former PSG manager Vahid Halilhodži?, the Fennec Foxes are captained by currently unattached defender Madjid Bougherra, who leads the entire 23 man roster with 62 Caps. The veteran Bougherra and his fellow defenders will look to limit the onslaught of offense that should plague returning goalkeeper Raïs M'Bolhi of Bulgarian side CSKA Sofia, with M'Bolhi a rare bright spot from that 2010 World Cup team. In the midfield, Getafe's Medhi Lacen looks to be the key man through which everything will run, while Valencia youngster Sofiane Feghouli may emerge as a goal threat with the 24 year-old already netting 5 times in just 19 appearances for his national team. Most of Algeria's hopes this tournament will center around good goalkeeping work from M'Bolhi and the ability of strike duo Islam Slimani and El Arbi Hillel Soudani to continue to poach goals as they've combined to net 21 together in just 42 combined appearances. Ultimately though, Algeria should have neither the firepower nor the defensive fortitude to survive in Brazil, although I feel they will easily score at least twice in Brazil. 
Prediction: 3rd in Group – 1 PTS
Belgium
Belgium appear the true class of Group H behind a deep and talented roster that are poised to make a long and potentially surprising run in Brazil. Appearing in their first World Cup since 2002, this Belgian side is incredibly strong at both the back and in the front, with the defense manned amicably by Manchester City's Vincent Kompany, Arsenal's Thomas Vermaelen, and Bayern Munich's Daniel Van Buyten, who leads this Belgian squad with 79 Caps. Up front, the attacking potency of the Belgians may be unmatched by any other squad at the tournament, with Edin Hazard, Romelu Lukaku, and Kevin Mirallas all bringing experience (118 combined Caps) and goal scoring ability to the side. This lineup looks formidable enough without even talking about the solid midfield featuring Manchester United's Marouane Fellaini and Zenit's wonderfully named Axel Witsel, while VFL Wolfsburg's Kevin De Bruyne provides yet another threat in a squad full of them. Belgium has all the tools in the shop to make a splendid run over the next month or so in Brazil, and that begins by feasting on the rest of Group H.
Prediction: 1st in Group – 9 PTS
Russia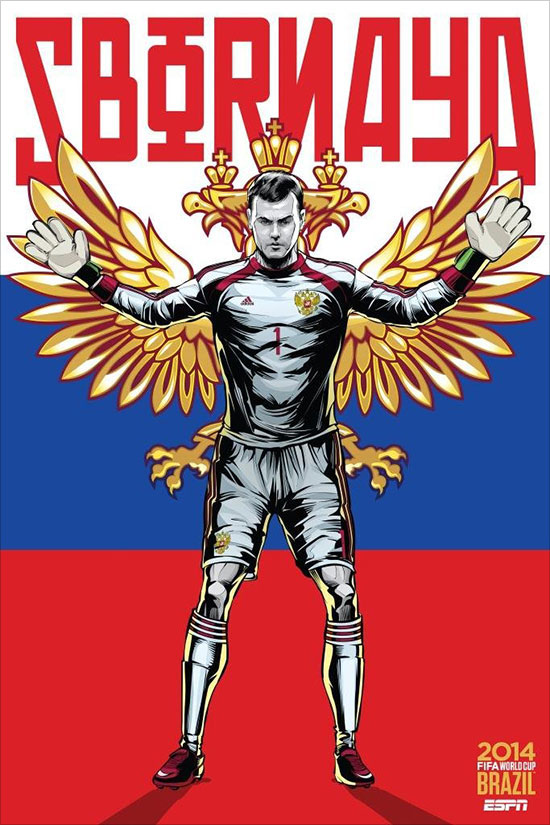 Russia enter just their 3rd ever World Cup brimming with confidence as they ride a current 10 match unbeaten run into Brazil with Fabio Capello's troops seemingly primed to make it out of the group stage for the first time ever as Russia. Featuring a lineup made ENTIRELY from players in the Russian Premier League, (Seriously, EVERY PLAYER plays in the RPL!) Capello is set to bring an incredibly fit Russian squad to Brazil to do battle with the rest of a rather soft Group H, aside from Belgium. Goalkeeper Igor Akinfeev (seen above) of CSKA Moscow is both the mental and physical leader of the side, as he is set to collect Cap number 70 against South Korea while the defense in front of him is led by 34 year-old Sergei Ignashevich, a collector of 97 Caps and also of CSKA. Along with Ignashevich, Vasili Berezutski provides even more experience with his 78 Caps, although the back line gets extremely youthful from there with a combined 55 Caps amongst the other 6 defenders selected. Russia's midfield is its true strength however, as Alan Dzagoev of CSKA looks to emerge as a dominant scorer from the middle (he already has 8 goals) and captain Igor Denisov will try to combine with Dynamo Moscow man Yuri Zhirkov to provide through balls to Russia's best player, striker Aleksandr Kerzhakov. Kerzhakov has a proven track record of scoring for both club (Zenit) and country, with 25 goals scored for Russia in 81 Caps. Assuming Kerzhakov is up to his usual self and Akinfeev can clean up any loose ends from the defense, I like Russia's chances to make their first ever Round of 16.
Prediction: 2nd in Group – 6 PTS
South Korea
South Korea enter the 2014 World Cup looking to continue their recent successes at major competitions, although they have been quite poor in recent fixtures. World Cup semi-finalists in 2002 and Round of 16 participants in 2010, South Korea have had tremendous success at World Cups before, although any achievement at this year's edition would be quite the surprise. Piloted by Hong Myung-Bo, their 4th manager since 2010, the South Koreans bring a young side to Brazil looking to use speed to their advantage against the much bulkier Algerians and Russians. Goalkeeper Jung Sung-Ryong of Suwon Bluewings is expected to take an advanced leadership role in the back as the career K League player has now collected 61 Caps for his national side, while the defense in front of him is largely untested and quite frankly not that special with Augsburg's Hong Jeong-Ho and Al-Hilal's Kwak Tae-Hwi the best of a meager lot in the back. 3 UK based players are expected to feature often in the Korean midfielder with Cardiff City's Kim Bo-Kyung, Bolton's Lee Chung-Yong, and Sunderland's Ki Sung-Yueng the best of the lot in midfield with 141 Caps and 14 goals between them all. That midfield will have to bear a lot of responsibility if South Korea are to make a decent run in Brazil as facilitation to the dangerous Park Chu-Young of Arsenal will be key if they are to keep the scoring pace. The home-based Lee Keun-Ho should provide a dangerous strike partner along with him, but I feel this will be a classic case of too many goals let in for the Koreans, ending their good fortune in major competitions.
Prediction: 4th in Group – 1 PTS
Final Standings
Belgium – 9 PTS
Russia – 6 PTS
*Algeria – 1 PTS
South Korea – 1 PTS
(Credit, one final time, to ESPN and Brazilian graphic artist Cristiano Siqueira for the seriously awesome posters)
* = Goal Differential used
Well, they say you can't predict a World Cup (even though I've tried my best), so may the matches be merry, plentiful, in good spirit, and may all the nations have a sensational World Cup (except France). Good luck to all at Brazil 2014 and enjoy the matches everyone!